Posted by Collin West on Aug 9th 2016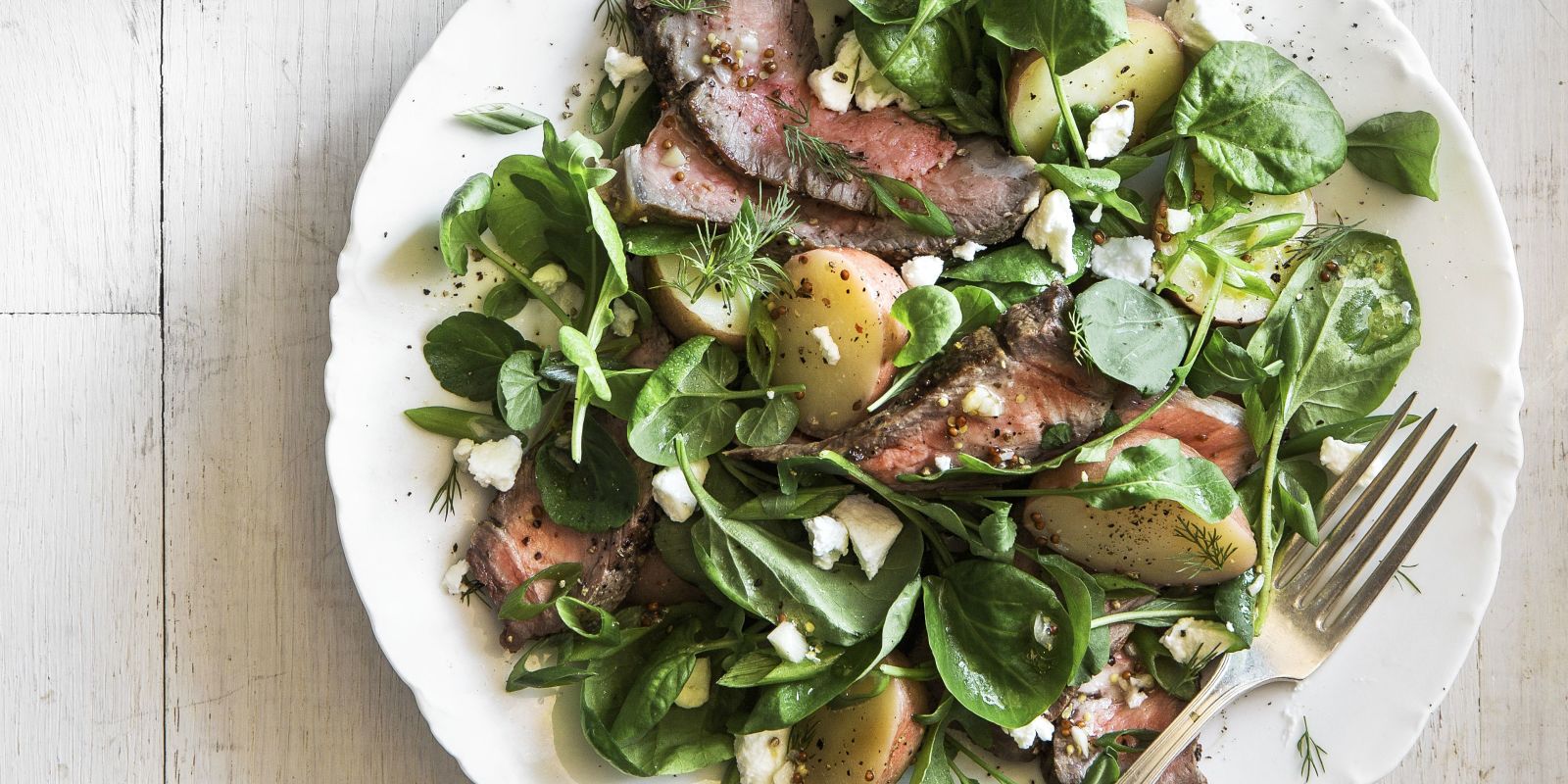 Eating healthy can sometimes be a total bore! Steak, potato, and arugula in a champagne vinaigrette however, is not a bore at all! Not only is this meal fantastic for a complete dinner, but the leftovers carry over exceptionally well for the following day's lunch. We actually ate all the steak out of the salad and added fresh apple slices and crumbled walnuts the next day. It servers 4 fairly well, but you'll need to double the ingredients for larger appetites, which may leave you with leftovers, always a good thing.
Here is what you'll need:
1 lb. small new potatoes, halved
Kosher salt and freshly ground black pepper
Champagne Vinaigrette(To make the champagne vinaigrette see below)
2 tsp. canola oil
1¼ lb. New York strip steak
4 c. arugula
2 c. baby spinach
2 c. torn watercress
2 scallions, sliced
1/4 c. torn fresh dill
3 oz. goat cheese, crumbled (about 3/4 cup)
Place potatoes in a medium saucepan and cover with cold salted water by 2 inches. Cover and bring to a boil, reduce heat and simmer until tender, 8 to 10 minutes. Drain and toss with ⅓ cup vinaigrette in a bowl. Let sit, stirring occasionally, until the dressing is absorbed.
Meanwhile, heat oil in a heavy bottomed skillet over medium-high heat. Season steak with 1 teaspoon salt and ½ teaspoon pepper. Cook, partially covered, until the internal temperature registers 130°F (medium-rare), 5 to 7 minutes per side, or to desired degree of doneness. Remove to a plate and allow to rest 5 minutes before slicing.
Add arugula, baby spinach, watercress, scallions, dill, and remaining vinaigrette to potatoes; gently toss to combine. Season with salt and pepper.
Serve with steak and sprinkle with goat cheese.
Champagne vinaigrette:
To make the champagne vinaigrette, whisk together ¼ cup olive oil, 2 tablespoons Champagne vinegar, 1 ½ teaspoons whole-grain Dijon mustard, 1 minced small garlic clove, and ¾ teaspoon sugar. Season with salt and freshly ground black pepper.