Posted by Collin West on Jul 21st 2016
Eat for a sharper mind with this healthy dinner recipes to boost brain power. Adding omega-3-rich ingredients, such as oily fish, to your diet, as well as iron-rich foods, such as beans, and water-rich foods, such as leafy salad greens, can support healthy cognitive function. This Black Bean & Salmon Tostadas recipe covers all bases and tastes great!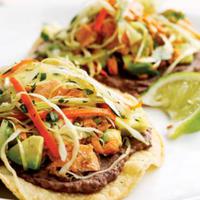 Pickled jalapeños, cilantro and avocado perk up convenient canned salmon for a quick tostada topping. Skip store-bought and make your own crispy shells in the oven. Serve with: Brown rice cooked with diced tomatoes and onions or salsa.
Here is what you'll need:
8 6-inch corn tortillas
Canola oil cooking spray
1 6- to 7-ounce can boneless, skinless wild Alaskan salmon, drained
1 avocado, diced
2 tablespoons minced pickled jalapeños, plus 2 tablespoons pickling juice from the jar, divided
2 cups coleslaw mix (see Tip) or shredded cabbage
2 tablespoons chopped cilantro
1 15-ounce can black beans, rinsed
3 tablespoons reduced-fat sour cream
2 tablespoons prepared salsa
2 scallions, chopped
Lime wedges (optional)
Position racks in upper and lower thirds of the oven; preheat to 375°F. Coat tortillas on both sides with cooking spray. Place on 2 baking sheets. Bake, turning once, until light brown, 12 to 14 minutes.
Combine salmon, avocado and jalapeños in a bowl. Combine cabbage, cilantro and the pickling juice in another bowl. Process black beans, sour cream, salsa and scallions in a food processor until smooth. Transfer to a microwave-safe bowl. Cover and microwave on High until hot, about 2 minutes. You'll want to make sure you have microwave oven bricks for this. This will help preserve the nutritional value. If you do not have the bricks, you can warm it on low over the stove. Be careful, this can burn easily.
To assemble tostadas, spread each tortilla with some bean mixture and some salmon mixture and top with the cabbage salad. Serve with lime wedges, if desired.