This green smoothie is well-known as a got-to energy booster, for some very good reasons!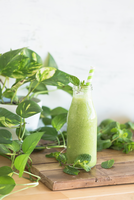 Coconut water and bananas contain high amounts of potassium to help regulate and maintain healthy cells and their natural production of energy. Together with a nutrient-packed dose of greens gives your body exactly what it needs to persist through that 3pm slump!
INGREDIENTS
1 small cucumber
1 cup baby spinach
1 frozen banana
1/2 cup chopped pineapple
2 cups coconut water
Fresh mint
WHAT TO DO
Blend all ingredients together until smooth and creamy.
What's so great about cucumber?
Cucumbers are extremely beneficial for overall health, especially during the summer since they are mostly made of water and important nutrients that are essential for the human body. The flesh of cucumbers is rich in vitamin A, vitamin C, and folic acid, while the hard skin is rich in fiber and a range of minerals including magnesium, molybdenum, and potassium. Additionally, cucumber contains silica, a trace mineral that contributes greatly to strengthening our connective tissues. They are known to heal many skin problems, under eye swelling, and sunburn. Cucumbers also contain ascorbic and caffeic acids which prevent water loss, therefore they are frequently applied topically to burns and dermatitis.