Posted by Collin West on May 13th 2016
Here is a fun and extremely easy recipe that you can really do a lot with. For this reason, it is the inaugural summer/gadget recipe of our drive to eating healthy. This recipe is actually more of a foundation that you can also integrate into dozens of other recipes. For starters, who doesn't like pesto. Through in super food kale and it is a homerun. It's also quite easy to make. We used an oster food processor, but you may also use a blender.
INGREDIENTS
3 cups chopped kale leaves
¾ cup packed fresh basil leaves
1 teaspoon kosher salt
⅓ cup extra-virgin olive oil
¼ cup pine nuts (toasted or raw)
5 cloves garlic, roughly chopped
3 ounces Parmesan cheese, grated (about ⅔ cup)
INSTRUCTIONS
Place the kale leaves, basil, and salt in a food processor fitted with the blade attachment. Process until the kale mixture is thoroughly chopped and almost paste-like. While the food processor is still running, drizzle in the olive oil very slowly. When all of the oil is incorporated, turn off the food processor. Add the pine nuts and garlic and pulse until the mixture is combined but still very grainy, 10 to 15 pulses. Add the grated cheese and pulse just to combine, 3 to 5 pulses. You'll need ⅓ cup of pesto for this recipe.
Boom. Pesto is ready and you should have leftovers at the end of this meal. You can freeze the pesto for later.
Here is where the Spiralizer and the fun comes in.
For the zucchini noodles:
4 medium zucchini
2 tablespoons olive oil
⅓ cup kale pesto (above), plus more for serving
2 cups cherry tomatoes, halved
Salt and pepper
2 ounces Parmesan cheese, grated (about ½ cup), plus more for serving
Grated Parmesan, for serving

1. Use a spiralizer to spiralize the zucchini into spaghetti-shaped noodles. If you don't have a spiralizer, you can still make this recipe! Just use a vegetable peeler to peel the zucchini into thin ribbons, but that's boring and we are trying to make eating healthy exciting.
2. Heat the olive oil in a large skillet over medium heat. Add the pesto and cook, stirring occasionally, just until the pesto is fragrant, about 30 seconds. Add halved tomatoes and zucchini noodles and cook, stirring, until the noodles are coated with the pesto and slightly softened, about a minute. Add the Parmesan and cook, stirring, just until the parmesan is melted.
3. Divide between two serving bowls and top with more pesto and parmesan, if you want!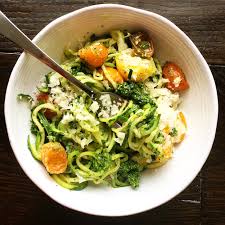 This recipe is a stand alone delicious meal, but has potential to grow to so much more. It can also compliment any meal as an amazing side. Splitting this into four smaller portions pairs very well with steak and chicken. We hope you enjoy this as much as we did!