Posted by Collin West on Jul 1st 2016
These tiny turkey burgers are inspired by the patriotic holidays of summer.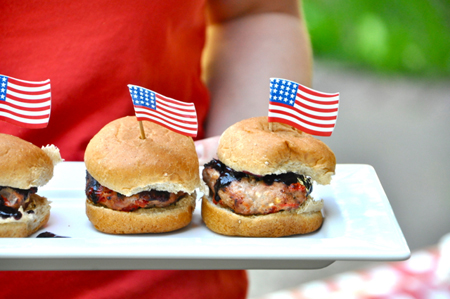 The red comes from roasted red bell peppers. These were in the oven on 350 for about an hour. You can also place on your grill for a quicker roasting. I sliced off the tops, cleaned out the seeds, and diced.
The white comes from the feta crumbles. This creamy Greek-style cheese folds in to the turkey for a mild and tangy flavor. It also only adds about 23 calories per burger, almost half of what cheddar would. On the grill it doesn't melt and ooze, but it's perfect when you take that first bite.
The blue comes from blueberries. Yes, we've added a blueberry balsamic reduction to dress these burgers. One of summer's best flavors is reduced over medium heat and the thick sauce adds a sweetness that complements the savory taste of the grilled turkey burgers. And it does so without hardly any calories, unlike mayo or ranch dressing.
Here is how to make the reduction: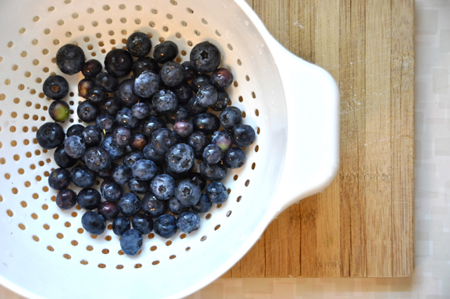 6 ounces fresh blueberries
1/8 cup balsamic vinegar
2 packages Truvia
Muddle the blueberries over medium heat in a sauce pan until completely broken down and the juices start to bubble.
Add the balsamic vinegar and Truvia. Watch closely to prevent burning and keep stirring until it thickens.
To create your perfect turkey slider your going to need: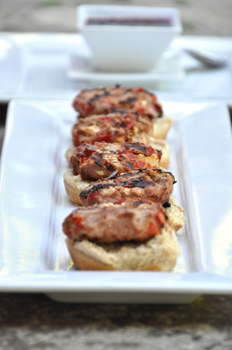 1 pound ground turkey
1 red bell pepper, roasted and chopped
1/4 cup reduced-fat feta cheese
1 tsp. coriander
1 tsp. cracked black pepper
Add all ingredients in a bowl and fold until well combined. Form six to eight small patties. Place on a low-to-medium heat grill for about 5 minutes, then turn and cook about 3-5 more minutes.
There are a wide range of slider buns you can find out there. When serving for a larger group, we like to mix up the slider buns. Whole wheat, King's Hawaiian rolls, and even pumpernickel sliders have been great.Place each patty on a slider bun and top with the blueberry balsamic reduction. Serve and enjoy!