Posted by Collin West from health.com on Jul 1st 2016
Eating healthy can be a little overwhelming sometimes. Nobody can stay excited about bland low calorie meals that seem to all be a minor variation of the same thing. We love a potato salad, and a beautiful one is even better. We search and try all sorts of recipes to integrate into our focus on being healthy. Thanks to Health.com we found a great potato salad recipe that is sure to impress. Tricolor baby potatoes liven up this dish, and mustard seeds (often used in Indian cooking) add a crunchy texture and great flavor to this can't-miss side. We really liked to do a splash of worcestershire upon serving.
Tell us how you doctored up this already awesome salad.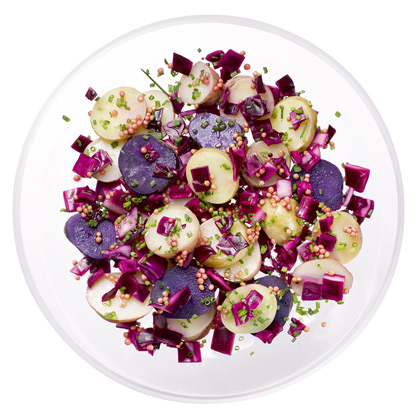 Ingredients
1/4 cup cider vinegar
2 teaspoons sugar
1/4 teaspoon pepper
Salt
2 teaspoons yellow mustard seeds
2 cups diced red cabbage
1 bag (about 24 oz.) tricolor baby potatoes, scrubbed and sliced
2 tablespoons safflower or canola oil
1/4 cup minced chives
Preparation
1. In a bowl, stir vinegar, sugar, pepper and 1/2 tsp. salt until sugar dissolves. Stir in mustard seeds and cabbage.
2. Bring a pot of salted water to a boil. Add potatoes, return to a boil and cook until just tender, about 10 minutes.
3. Drain potatoes; let cool slightly. Fold into cabbage mixture with oil and chives. Serve warm or at room temperature.
Prep Time:
Cook Time:
Yield: Serves: 6 (serving size: 1 cup)
Nutritional Information
Calories per serving:
Fat per serving:
5g
Saturated fat per serving:
0.0g
Monounsaturated fat per serving:
0.0g
Polyunsaturated fat per serving:
0.0g
Protein per serving:
3g
Carbohydrate per serving:
23g
Fiber per serving:
2g
Cholesterol per serving:
0.0mg
Iron per serving:
1mg
Sodium per serving:
226mg
Calcium per serving:
33mg
Good to Know
Purple potatoes are good for your heart and red potatoes are packed with fiber and vitamin C. This salad is a very low-calorie – just 145 calories – side dish for your summer barbecue.