Posted by Collin West on Sep 1st 2016
Is it too early for pumpkin?
We think not!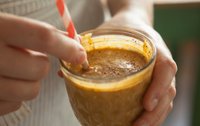 This delectable, healthful smoothie is packed with vitamin A, potassium and fiber.
Top each serving with some ground flax seeds or a pinch of nutmeg if you like.
Here is what you'll need:
1 cup pumpkin purée
1 large ripe banana
1 cup unsweetened soymilk or coconut milk beverage
1 tablespoon honey
1/2 teaspoon pure vanilla extract
1 1/4 teaspoon pumpkin pie spice
5 ice cubes
This will be enough for about two servings.
Here is the real tough part:
Put all the ingredients into a blender and blend until smooth. Pour into your favorite smoothie container and enjoy.
Each serving provides an estimated:
160 calories (20 from fat)
2.5g total fat
65mg sodium
33g carbohydrates
(4 gdietary fiber, 19g sugar)
5g protein.
Great for the up coming holidays and a healthy cure for that fall pumpkin fix.