Posted by Collin West on May 18th 2016
Often time people will tune out as soon as they hear ground turkey or lettuce wraps, but this is the recipe to change that trend. Fresh truly is the key to ultimate flavor. In this recipe we have shown canned green chiles simply to save time. At the bottom we also have two ways of preparing your own green chiles (grill and oven). We have also used can corn kernels, but if you have the time, nothing beats fresh boiled corn cut straight from the cob.
Not only is this packed with tons of flavor but it comes together in 20 minutes in just one pot! .
Healthy, nutritious, quick and easy. Delicious guilt free recipe that serves about four people.
Ingredients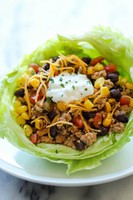 1 tablespoon olive oil
1 pound ground turkey
1 cup salsa
1 (4-ounce) can diced green chiles
1 tablespoon taco seasoning
1 (15-ounce) can corn kernels, drained
1 (15-ounce) can black beans, drained and rinsed
2 tablespoons chopped fresh cilantro leaves
Kosher salt and freshly ground black pepper, to taste
1 head butter lettuce
1/4 cup shredded cheddar cheese, optional
1/4 cup reduced-fat sour cream, optional
Instructions
Heat olive oil in a large skillet over medium high heat. Add ground turkey and cook until browned, about 3-5 minutes, making sure to crumble the turkey as it cooks; drain excess fat.
Stir in salsa, green chiles and taco seasoning until heated through, about 2-3 minutes. Stir in corn, beans and cilantro until well combined; season with salt and pepper, to taste.
To serve, spoon several tablespoons of the turkey mixture into the center of a lettuce leaf, taco-style, garnished with cheese and sour cream, if desired.
Making your own green chiles for this recipe is no easy task, but can be very rewarding. One of our favorite places to find flavorful healthy food is from Pioneer Woman. Here is a link which will give you one of the easiest explanations on how to create your own green chiles in your oven. Thanks Pioneer Woman.
Pioneer woman oven green chiles.
Now for the grill. There is no mistaking the flavor of roasted green chiles on the grill. For this we go to SA Flavor for a great step by step procedure with excellent pictures and even a short video. Thanks SA Flavor.